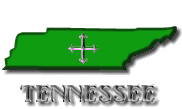 Henry Ford Cutrell spent much of the later part of his life walking through and transcribing tombstones from many of the cemeteries in Wilson County. His records contain over 30,000 names from these cemeteries. His records are presently housed in the Lebanon Library. His daughter, Sue Cutrell Reynolds, has graciously donated copies of his records to the Wilson County Tombstone Project.
The TN Tombstone Project wishes to thank Mrs. Reynolds for her generousity. This page is dedicated to Mrs. Reynolds' father, Henry Ford Cutrell and his tremendous research.
Henry Ford Cutrell
June 7, 1923 - April 23, 1986
Sue Cutrell Reynolds

suereynolds@mchsi.com
Please Note: Only those cemeteries that have active links are presently online.

Let's work together in this endeavor!

This Project is about remembering our dead and preserving our history!!!
To submit a cemetery, please contact:

Tennessee Tombstone Transcription Manager
VOLUNTEER NEEDED!!
National Tombstone Project Coordinator: Rebecca Maloney
---
---
Copyright © USGenWeb Tombstone Project, 1997-2019