Black Cemetery
Sharp County, Arkansas
As told by Kenneth Black, August 4, 2001
Updated August 11, 2002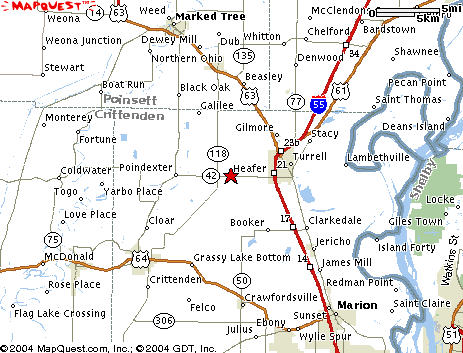 Last week I made a Pilgrimage back to my Arkansas roots. I took a few pictures of Black family headstones: Alexander, Harriet, and son William A. Black (all were broken).
The Black Cemetery is in Sharp County near Martin Creek and Baker Cemetery Road, where my great grandfather and grandmother Alexander and Harriet J. Marriott Rogers Black are buried.
My 2nd cousin, Jack English, helped my sister, Beverly, and I find the old cemetery on Alexander's original homestead in the 1850's and 1860's.
Alexander was born in Dublin, Ireland in 1820, and came to the USA (during the) 1840's potato famine. He settled in Columbia, MO, and married Hannah LaForce in 1845. They moved to Arkansas in the 1850's where Hannah died.
He re-married a widow with 2 children, Harriet Marriott Rogers, and settled in (the) Ravenden Springs area, where he had 4 children, including my grandfather, Bynum Black, (who was) a Church of Christ preacher all his life.
My dad, Upton Sinclair Black (named after the writer/muckraker Upton Sinclair) was born and raised in Ravenden Springs, AR.
The Black Cemetery was difficult to find and was in terrible condition. The gate was open and apparently the headstones were broken by grazing cattle. There were few standing tombstones.
We closed the gate.
UPDATE
I went to Black Cemetery last May & took some pictures
of 3 headstones of my family.

My 3rd Gr-grandmother
KELLETT, ELIZABETH "Betsy" "WRENFROW"
Wife of Josiah Kellett
"Rest in Heaven"
Died Nov 16,1876
(Elizabeth's fell over & broke but was readable)


Buried next to Elizabeth were
CHUN, Margaret Elizabeth"KELLETT"
Daughter of Josiah & Betsy KELLETT
Wife of Frank CHUN
Born Feb 21st 1853
Died Feb 16th 1917


CHUN, Frank
Born Feb 4th 1860
Died June 13th 1937
(Margaret's fell over & Frank's looks like it was put down yesterday